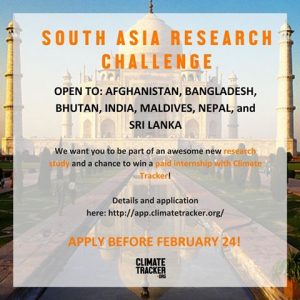 Deadline: 24 Feb 2017
Are you from Bangladesh, Nepal, Sri Lanka, India or Afghanistan?
This may be your chance to be part of a really awesome new research study focused on South Asian media and climate change- and a chance to win a paid internship with Climate Tracker!
Climate Tracker is exploring how language may impact the quality, quantity and effectiveness of media reporting on climate change in these countries.
Climate Tracker want to hear from journalists in these countries on their experiences in reporting climate change in local languages. To do that, Climate Tracker want you, their network of climate trackers, to help them.
Benefits
Here is a questionnaire that may help you conduct the interview. Feel free to add some questions of your own. Treat it like a conversation – these questions are just there to help you!
An awesome toolkit by Climate Tracker that teaches you everything you need to know about conducting an interview;
A webinar with Climate Tracker's team to tell you about what we are looking for and some tips! Join us on 20th February.
Climate Tracker will be selecting 10 of the best interviews – 2 from each country- to publish in our report. All of the authors of these interviews will be credited in the final report, with their names, photos and short biographies. This will be a great opportunity to "get published".
They will also be selecting 4 winners- the ones whose interviews we found the most inspiring. The first 2 winners will receive a paid internship at Climate Tracker ($200 each) – including some one on one training with the Climate Tracker staff. The 3rd and 4th winners will receive a $40 amazon voucher – or the chance to donate to a charity of his or her choice!
Eligibilities
Climate Change journalist from Bangladesh, Nepal, Sri Lanka, India and Afghanistan.