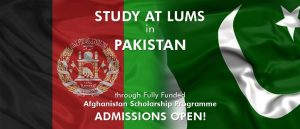 Deadline For Undergraduate programs: 18 May 2017
Deadline For Post-graduate programs: 13 April 2017
LUMS consistently strives to make its educational programmes accessible to talented students from all geographies and backgrounds, regardless of their ability to pay. An exciting new initiative in this regard is our partnership with the Afghanistan Government, allowing the setup of a scholarship programme to bring the best and brightest Afghani students to LUMS on merit, with the support of Afghan Government.
This initiative is the result of a Memorandum of Understanding (MoU) signed on February 2015 between Lahore University of Management Sciences (LUMS) and the Government of the Islamic Republic of Afghanistan to establish "Afghanistan Scholarship Programme (ASP)", which was announced by H.E. President Mohammad Ashraf Ghani during his first visit to Pakistan.
Afghanistan Scholarship Programme (ASP) is an exclusive scholarship for talented Afghan students to study at LUMS in its undergraduate and graduate programmes. The ASP scholarships will only be offered to Afghan students, who are admitted on purely merit basis.
Programs: Undergraduate and Post-graduate programs
Admission support:
LUMS offers applicants the facility to apply online for admission to its academic programmes.