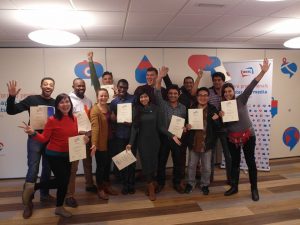 Deadline: March 23, 2017
About RNTC:
The RNTC training center provides training for media professionals from all over the world: from journalists and program-makers to social activists and communications professionals from non-governmental organisations.
Whether you are a journalist, a blogger or a media manager, we have the courses to fit your needs. RNTC offers courses in Hilversum, the Netherlands, and in-house courses around the world. We also provide tailor-made training for media organisations and non-governmental organisations. RNTC prides itself on being innovative in both subject matter and method of delivery.
RNTC was set up in 1968 as a joint initiative of RNW Media (formerly Radio Netherlands Worldwide) and the Dutch Ministry of Foreign Affairs. In the past 45 years, RNTC has gained invaluable expertise in delivering courses to media professionals around the world, and in the role media can play in society, especially in the developing world and countries in transition.
About the Scholarships:
You may qualify for a scholarship for an RNTC course. The most commonly used scholarship for our courses are the NFP and MSP (MENA) scholarships from the Dutch Ministry of Foreign Affairs and executed by EP-Nuffic.
NFP stands for Netherlands Fellowship Programs (NFP), MSP stands for MENA (Middle East and North Africa) Scholarship Program. NFP scholarships are available for 51 countries, MSP scholarships for 9 countries.
You can only apply for a scholarship for your chosen course during the 'application window' for that course. The next period to apply for an NFP or MSP scholarship is from February 2nd until March 29th 2017.
An NFP or MSP scholarship will cover the full cost of your travel and visa (if required), accommodation and meals, insurance, and the course fee. The NFP and the MSP scholarship programmes are funded by the Dutch Ministry of Foreign Affairs and administered by EP-Nuffic, the Netherlands Organisation for International Cooperation in Higher Education.
There are many more applications than there are scholarships available. Therefore, it is important that you meet all the RNTC criteria (see individual course pages) and the EP-Nuffic criteria, which you can find below, on this page.
Available courses:
For more information please click here: